HOTEL AMENITIES
Lift / Elevators

Indoor & outdoor games
Library

Heritage Hotel

Pure-Vegetarian Restaurant

Yoga center
HOTEL INFORMATION
Wheelchair assistance:Yes
Drivers sleeping arrangement:Yes
ACCOMMODATIONS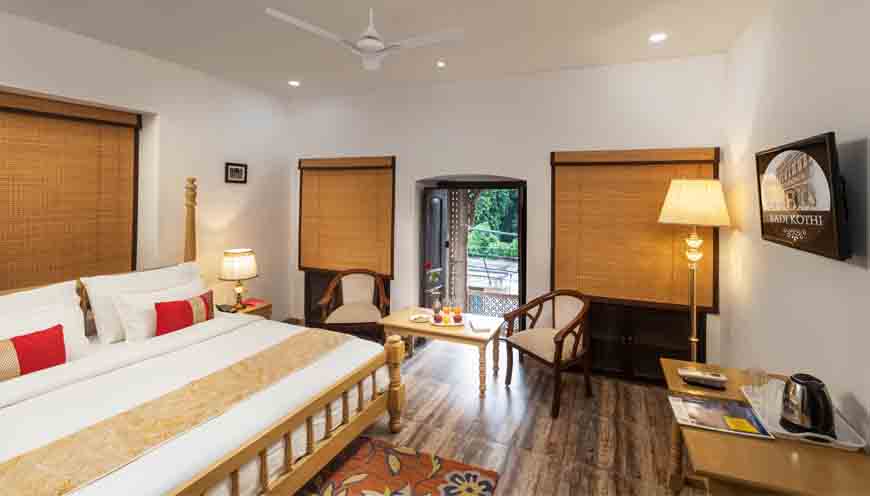 KIVAAD ROOM

City
Kivaad rooms is named after the old ornamental doorway known as 'Kivaad'. From the absolute regal interiors to the carvings, this room will give you an lifetime of experience. This accommodation is an amazing blend of old traditional décor combined and restored with modern contemporary facilities and amenities, curated keeping the comfort as a priority.
Inclusive of Breakfast
3 Adults + 1 Child
King-size bed
193 sq.ft.
Starting Rate/Night
5000*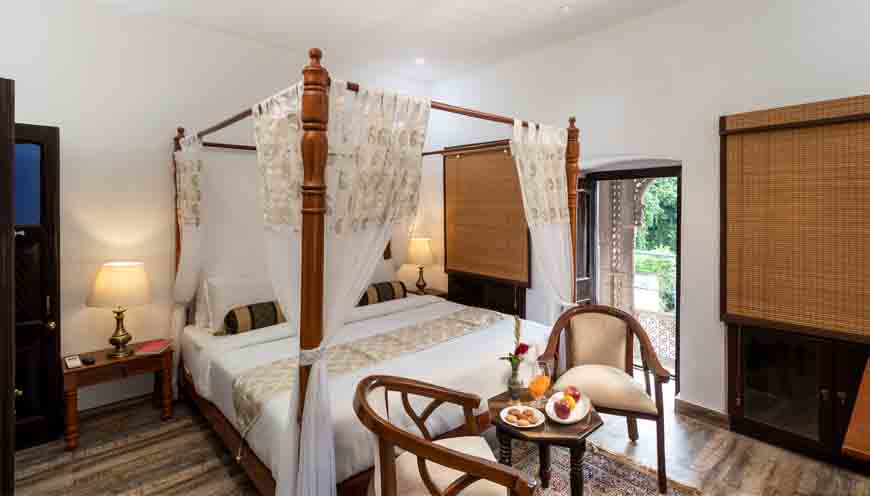 GAUKHA ROOMS

City
Reconnect with the bygone era while you stay at the 'Gaukha' rooms, named after the beautiful centuries old jharokha style carvings, which is also known as Gaukha in North India. This room is perfected with the traditional style setting accustomed with modern facilities and amenities. Perfect spacious rooms to stay along your family
Inclusive of Breakfast
3 Adults + 1 Child
King-size bed
180 sq.ft.
Starting Rate/Night
6000*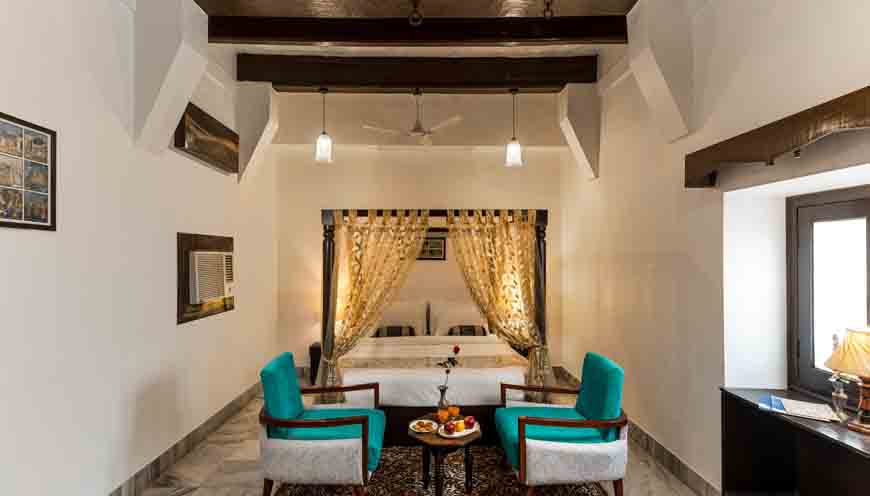 SHASTRI SUITES

No view
The history of this Kothi is marked with the presence of many historical figures, one such name is Lal Bahadur Shastri, he lodged here along with his family. This accommodation will let you re-visit an era from before and after Independent India, equipped with all modern day facilities like the flat LED TV.
Inclusive of Breakfast
3 Adults + 1 Child
King-size bed
1938 sq.ft.
Starting Rate/Night
9000*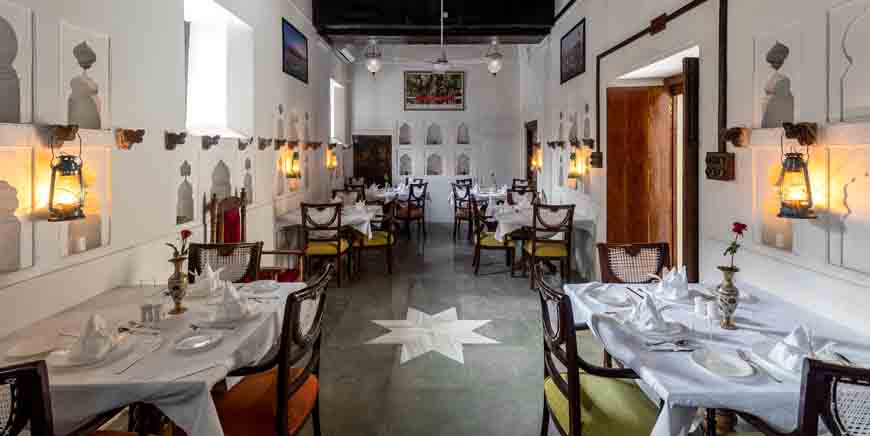 Badi Kothi Restaurant -  a vegetarian's delight
Prayagraj
+919519292271
On the ground floor of the Kothi is a pure vegetarian multi-cuisine restaurant that can hold up to 30 people. The restaurant along with serving popular dishes like Chinese and Italian, also offers a range of locally consumed dishes like Nimona, Baakh, Fara, Khasta Kachori, Taheri, etc
Pure-vegetarian

Multi-cuisine

All day dining
Triveni Sangam
The confluence of the mighty rivers Ganga, Yamuna, and Saraswati is a popular Hindu pilgrimage. According to a belief bathing in the confluence can wash away all the past sins and attain salvation. The city name Prayagraj is driven from the Triveni Sangam, often referred to as 'Prayag'. It is just 1.5km away from the hotel.
Veni Madhav
300 meters away from the hotel is one of the 12 Madhav temples, Veni Madhav. Believed to be present since the beginning of Treta Yug and according to a popular legend, Saint Chaitanya Mahaprabhu did his penance here. The Deity is an avatar of Lord Vishu who is worshipped along with his consort Lakshmi here. Veni Madhav is believed to be a unity of the holy trinity - creator, preserver, and transformer.

Allahabad Fort
Build-in 1583 by the Mughal Emperor Akbar, Allahabad Fort is situated on the banks of River Yamuna. Situated at a distance of 3.5km from the hotel, the beautiful Fort is been associated with tragic stories of suicides. Only a small part of the Fort is accessible and visited by tourists due to the dense forest around it. The Fort is best explored from its outside on a boat ride. Interestingly it is known to be the largest fort ever built by Akbar.

Chandra Shekhar Azad park & Allahabad Museum
Allahabad Museum is located inside the beautiful manicured Chandra Shekhar Azad Park (Formerly known as Company Bagh) has a large collection of stone sculptures, miniature paintings, and a varied range of collections of terracotta, arms, armors, archeological and literary assemblage. Spread over 13 acres of sprawling green landscape this serene park is the biggest in Allahabad. The museum is about 5 km away from the hotel.
Sita Samahit Sthal
Sita Samahit Sthal is just 60 m from the Kothi and believed to be the speck where Sita Mata took refuge under the Earth after being questioned for her purity and chastity. It is a well-known Hindu pilgrimage and a must-visit for mythology followers and believers.
Read More
Gallery