ACCOMMODATIONS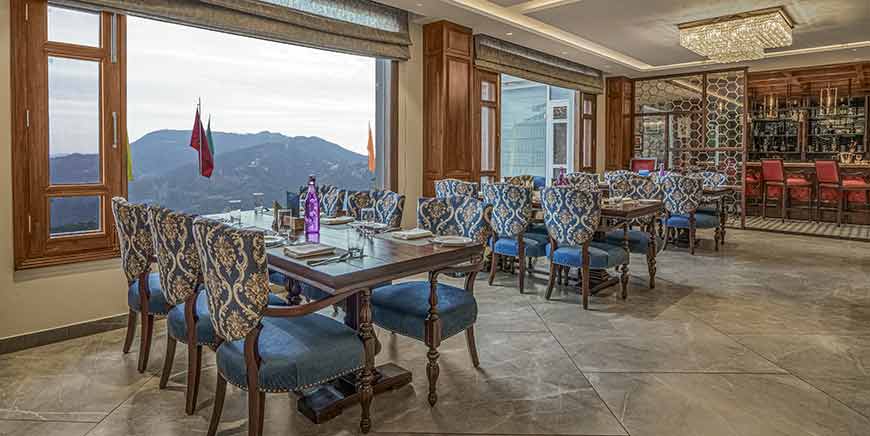 The Residency
Shimla
+91 177 2801025, +91 9317201003
Classic mountain hospitality, and multi-cuisine delights with a special focus on unique regional cuisine creates an exceptional culinary experience for guests. Enjoy the timeless comfort and warm décor as you unwind with a delectable meal – accompanied by a spectacular view of course. The seating capacity of the restaurant is 100 pax
Multi-Cuisine

All day dining

Casual, relaxed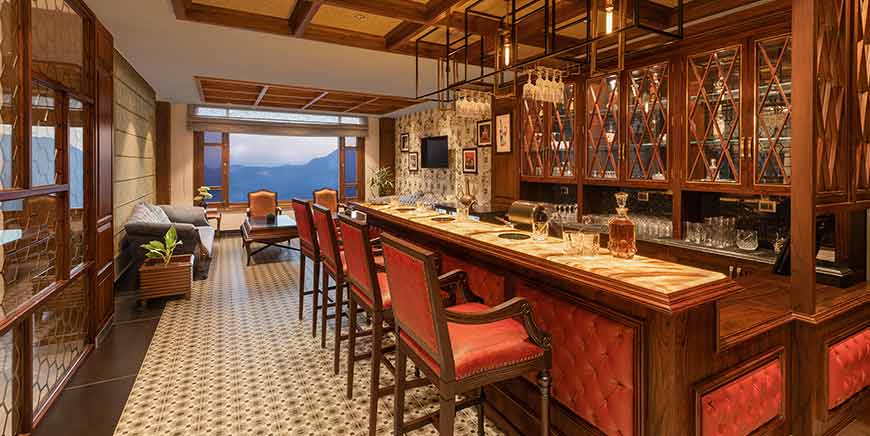 The Captain's Tavern
Shimla
+91 177 2801025, +91 9317201003
Nothing beats ending a long day of sightseeing than a refreshing drink. The Captain's Tavern is the perfect place to slow down, refresh, and rejuvenate in a warm and inviting atmosphere. Whether with friends, family, or even alone, it is truly an ideal pit stop for the traveller. The seating capacity of the restaurant is 26 pax
Bar

Relaxed

5:00 p.m.- 10:30 p.m.
Mall Road, Shimla
The iconic heart of the beloved hill station, Mall Road is an inviting hub of old-world charm and colonial architecture. Just 4.5 km from Elysium, Mall Road is a bustling street full of delightful and photogenic shops, cafes, and restaurants.
Temples of Shimla
Three iconic temples lie a short distance from Elysium, and can even be spotted from select rooms on clear days. The majestic Jakhu Temple, with its iconic massive Hanuman idol is located just 9 km from Elysium. Sankat Mochan Temple, a serene and soulful escape with an impressive view of the valley is just 5 km from the hotel. The historic Tara Devi temple, with a history stretching back 250 years is located 14 km from the hotel.
Lakkar Bazaar
Located just 500m from Mall Road, the Lakkar Bazaar specializes in charming wooden items of all types. It is paradise for those who love the old-world beauty of wooden goods, and a haven for those who want a unique souvenir of their time in Shimla.
Kufri
At a height of over 2,600m above sea level, and just 16 km from Elysium, lies the adventurer's paradise of Kufri. Renowned for trekking, hiking, and winter sports, it is one of the most stunning skiing destinations in India. Visitors to Kufri can also visit Mahasu Peak, or the National Snow Statue Competition in January. They can also enjoy horse riding, the adventure park, or the local zoo.
Chail
Once the summer capital of the princely state of Patiala, Chail is located 45 km from Shimla in the Shivalik Region of Himachal Pradesh. Spread over 72 acres and three iconic acres, Chail is famous for its spectacular views of the Sutlej valley and year-round pleasant climate. Highlights in Chail include the world's highest cricket ground, a splendorous palace and the famous Kali Maa Temple.
Narkanda
For those wanting to take in nature's majestic beauty, no place offers greater views of snow-capped mountains than Narkanda. 61 km from the hotel, it is a preferred destination for those who seek the quiet solitude of the mountains. It is known as an exceptional skiing destination, as well as the heart of Himachal's famous apple country.
Read More
Gallery

Contact Us

WELCOMHERITAGE ELYSIUM RESORT & SPA
Tutikandi, Near Gita Mandir, ISBT
+91 8045771900, +91 177 2801025, +91 9317201003
holidays@welcomheritagehotels.in
By Air
Chandigarh (International Airport) - 121 km
Shimla Domestic Airport - 22 km
By Train
Kalka Station - 84 km
Shimla Toy Train Station - 2.5 km 

ISBT Shimla - 300 mtrs

By Road
From Delhi/NCR - 345 km

From Chandigarh - 111 km