HOTEL AMENITIES

Swimming pool

Indoor & outdoor games

Wildlife Resort

Conference Hall

Lawn
ACCOMMODATIONS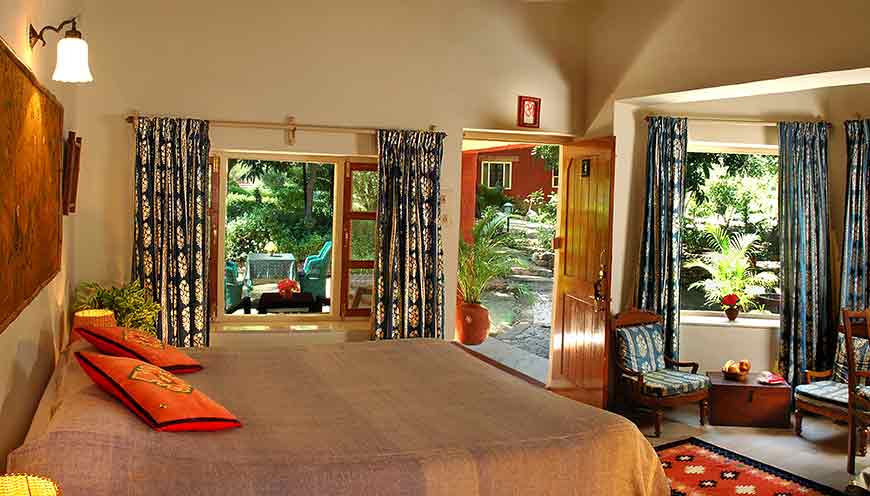 COTTAGE ROOM

Garden
The experience of staying in these beautiful cottages standing in the midst of orchards of fruit-bearing trees and chirping birds is very refreshing. The decor of the room is matched with the regular households of Rajasthan. The use of bright colors in the handlooms and tapestry, simplistic wooden furniture, warm lights and handmade paintings evoke a luring charm. The area spread of the room is 216 sq. ft.
Inclusive of Breakfast
3 Adults + 1 Child
King-size bed
288 sq.ft.
Starting Rate/Night
7000*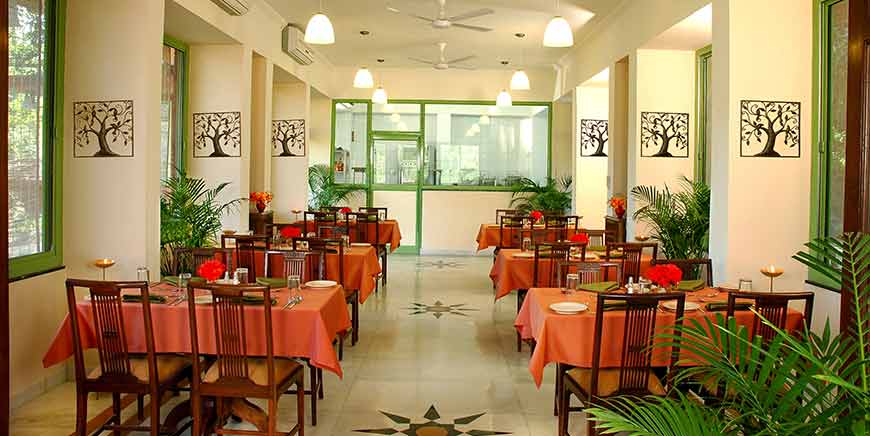 Jhupa Restaurant
Ranakpur
+91 2934-285151 ,+91 2934 286615
A multi-cuisine restaurant with a special Rajasthani menu to savor. The forgotten royal recipes of the yesteryears like Junglee maas and some popular ones like Gatta curry, Maas Ke Sholey are must-try.
Badla Restaurant
Ranakpur
+91 2934-285151 ,+91 2934 286615
This al-fresco hut is another multi-cuisine restaurant of the resort. Offering a unique experience of dining in the serenity of nature, one can enjoy the bounties of the garden while relishing the delicacies of the resort.
Ranakpur Jain Temple: Known for its intricate carvings and beautiful architecture, Ranakpur temple was built in the 15th century. The vast complex has temples of the Chaumukha, the Parsavanath, the Amba Mata, and the Surya. Having a staggering 1,444 pillars, the temple has mesmerizing sculptures, figurines, geometrical patterns, and scrollwork.
4 km from the resort
Ranakpur Dam: 2.5 km away from the resort is this interlude from the city chaos. The gleaming sight of the water surrounded by the mountains is visited for its scenic beauty. This reservoir of Ranakpur offers a stupendous view at the time of dawn and dusk.
2.5 km from the resort
Khumbalgarh Jeep Safari: Undertake the most surreal experience of witnessing the magnificent beasts of the Jungle Kingdom. The enchanting woodlands of the Kumbalgarh have the most impressive flora and fauna and is a well-protected sanctuary where sightings of wolves, leopards, sloth bears, deer, etc. are common. One can also visit the forts and temples in the surrounding areas of the sanctuary.
35 km from the resort
Sadri Temple Town : In the proximity of Ranakpur , Sadri is a town full of fascination and folklore. A congregation for temples, history, and art, Sadri is full of mesmerizing places to explore. Chintamani Parasnath, Varahavatar, and Parashuram Mahadev temples are the most noticeable. Strolling around Sadri one can shop souvenirs like colourful and traditional clothes, kitchenware, jewellery, etc.
6 km from the resort
Read More
Gallery