HOTEL AMENITIES

Swimming pool

Indoor & outdoor games

Spa

Bar

Heritage Hotel

Yoga center
ACCOMMODATIONS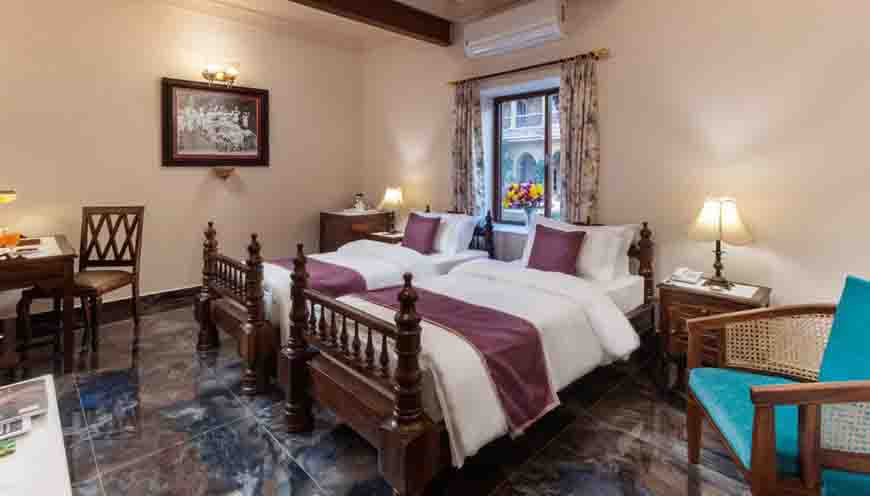 STANDARD ROOM

Palace
Being part of the heritage hotel, these rooms are refurbished with modern arrangements to offer comfort and care. Each carefully appointed rooms are spread across the fort with different decor and sizes yet the essence of its heritage being intact. A common element of Rajputana can be found everywhere.
Inclusive of Breakfast
3 Adults + 1 Child
King-size bed /Twin-beds
205 sq.ft.
Starting Rate/Night
6500*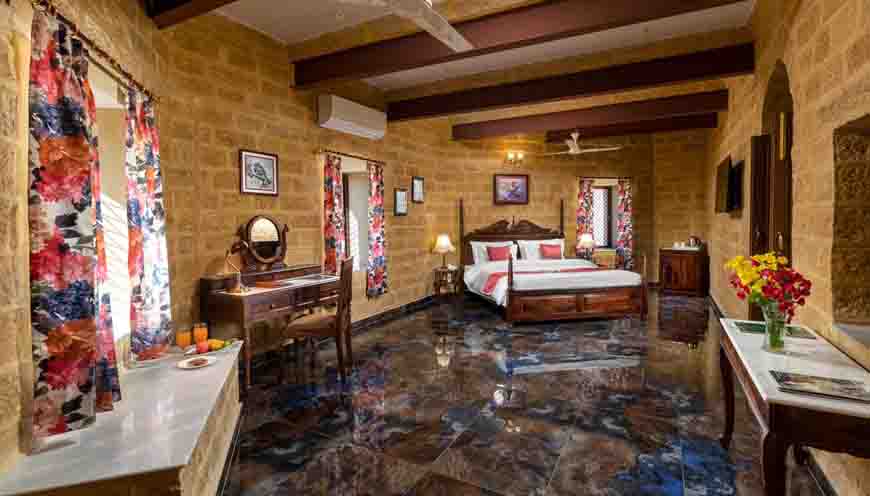 GOLDEN SUITE

Palace
These are also the former rooms of the royal family of Jaisalmer. They have Yellow Stone Interiors which reflect the décor prevalent in that period. Decorated with beautiful four post king size bed, bright colorful draperies, warm fuzzy lights, and beautiful paintings with a study table offers a comfortable set up. The very thought of being in the room as the ones used by royalty make your sojourn a rather memorable one.
Inclusive of Breakfast
3 Adults + 1 Child
King-size bed
484 sq.ft.
Starting Rate/Night
6500*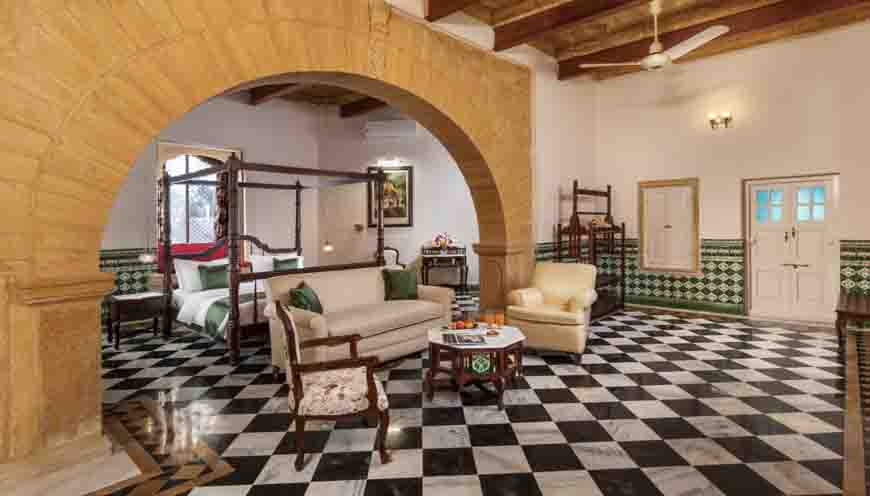 MAHARAJA SUITE

Palace
Former rooms of the royal family of Jaisalmer are decorated with Italian marble flooring, handmade motif tiles, colorful window mirrors with beautiful four post king size bed and exquisite sofa-set offers a plush experience. These spacious suites are beautified with twinkling chandeliers, study table, and vintage paintings. Two of these suites have open air shower and the blue tiled bathroom with bathtubadds an extravaganza. The area spread of the room is 930 sq. ft
Inclusive of Breakfast
3 Adults + 1 Child
King-size bed
635 sq.ft.
Starting Rate/Night
15000*
Offers

At WelcomeHeritage Mohangarh Fort a small social gathering of 30-40 people in a classroom style can be organised. A choice of audio visual equipments can be arranged on request. Apart from that other venues like the roof top restaurant can be arranged for an elaborate dinner and meets.
Jaisalmer Fort: Standing as a remarkable piece of history, this proud fort is one of the very few "Living Forts" in the world. This UNESCO world heritage site is a true representation of the glorious past of Rajasthan. Build in the year 1156 AD, the fort is known for its golden hue from the sandstone and incredible architecture. 60 km away from the hotel, Jaisalmer Fort never disappoints in mesmerizing its visitors.

Patwon ki Haveli: 62 km away from the hotel is this architectural marvel. A series of 5 Havelis with exquisite paintings, beautiful jharokhas (balconies), archways, mirror work, beautiful carvings, and the bright golden hue is worthwhile. A true depiction of the luxuries and riches of the merchants of that era, the Haveli took over 50 years to be completed. This largest Haveli of Jaisalmer is now under the able care of the Government of Rajasthan.

Bada Bagh: Literally meaning as "Big Garden", is erected on a small hilltop. The main sections of the garden, tank, and dam are worth exploring. A cluster of beautiful sandstone cenotaphs is the memorabilia of the royal family members. Each cenotaph has a marble slab with inscriptions about the deceased royal member and incredible carvings on the pillars and the ceilings. Bada Bagh offers breathtaking sunset vistas and is about 60 km from the hotel.

Mandir Palace: Known for its Indo- Saracenic architecture, Mandir Palace is adorned with ornate balconies, canopies, beautifully carved screens that represent high craftsmanship. A mentionable feature of Mandir Palace is its tower called 'Badal Vilas', which offers a vantage point view from the hilltop. All the guests of Mohangarh Palace can view this 300 years old Mandir Palace by availing of a complimentary tour pass.
Read More
Gallery

Contact Us

WELCOMHERITAGE MOHANGARH FORT
Jaisalmer Road, Mohangarh, Rajasthan- 345033, India Jaisalmer Rajasthan 345033 India
+91-9782217225
holidays@welcomheritagehotels.in
By Air
Distance from Jaisalmer - 71 km
By Train
Distance from Jaisalmer railway station - 60 km
By Road
Distance from Jaisalmer - 62 km/ 1 hour