HOTEL AMENITIES

Gym

Indoor & outdoor games

Restaurant

Spa

Bar

Lawn

Electronic Vehicle Charger

Conference Room

kids Playroom

Gift Shop

Wellness Center

Ecological Pool
ACCOMMODATIONS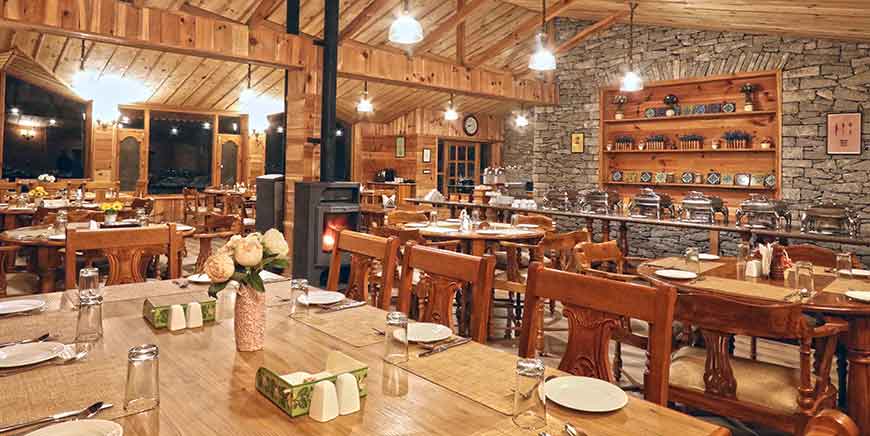 The Rohtang Pavillion
Manali
8045 771 900
A fun place to savour your morning breakfast, afternoon brunch, and evening supper, the Rohtang Pavilion is a venue for all in-house meals. During your stay don't forget to taste the 'Pahaari Dhaam' a local authentic dish which comprises delicately slow-cooked dishes which are served together in a thali. At WelcomHeritage Urvashi's Retreat, this delicacy is curated specially for the guests by Urvashi Singh, Owner WelcomHeritage Urvashi's Retreat. The love for food is not just overwhelming but never-ending at this boutique hotel.
Cuisine - Multi

Ambience- Casual, Relaxed

Timing-All day dining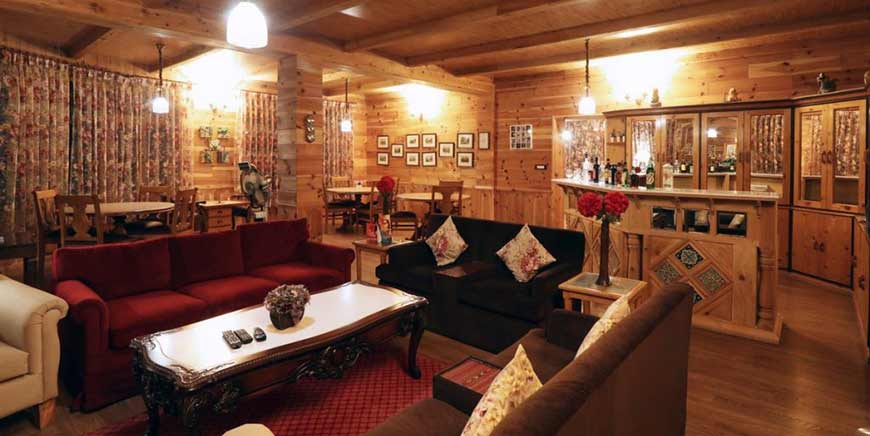 Mike's Tavern
Manali
8045 771 900
Whether one wants to immerse themselves in a novel with a hot cup of cocoa or challenge their friends with a game of chess over a refreshing cocktail, Mike's Tavern is the place to be. This lounge with a beautiful view of the garden is perfect to relax and rejuvenate.
Cuisine- Beverages & snacks

Ambience- Relaxed

Timings- 5:00 p.m. - 11:00 p.m.
Brook's Bakery
Manali
8045 771 900
Curated especially out of sheer love for the art of baking. Perfect for the ones with a sweet tooth,the menu lets you satisfy your tastebuds by offering loaves of bread baked with a range of flours from wheat, oats, and ragi. While you can also indulge in freshly baked Date & Walnut cookies, or the famous Apple Pie cooked from local ingredients like the apples from the orchard.
Cuisine-patisserie / boulangerie

Ambience - Relaxed

Timings- All day dining
Solang Valley
A trip to Manali is incomplete without getting hit by a snowball on the face. Solang Valley is the perfect valley to put those skiing shoes on. A favourite for adventure enthusiasts, paragliding, skiing, horse riding to driving mini-open jeeps especially available for tourists of all age groups. With a nominal fee for one time visit, you can glide through the icy slopes in glee.
5.3 km from the hotel
Manali Mall Road
If shopping is your call, then you must indulge in some street shopping at the famous Manali Mall Road. You will find shops from where you can shop beautiful Kullu and Kashmiri shawls, woolen items, artificial jewelry, wooden furniture, antiques, books, Tibetan items and more. Also, a paradise for foodies with ample street food options to try.
6.3 km from the hotel
Hadimba Devi Temple
Located amidst the snow-covered hills of Manali, the Hadimba Temple is a unique shrine dedicated to Hadimba Devi, who was the wife of Bhima and mother of Ghatothkach. The place is surrounded by gorgeous cedar trees. This beautiful shrine is built on a rock which is believed to be in the image of goddess Hadimba herself. With its wooden doorways, stone walls and the cone shaped roof, the architecture of this temple makes it look different from other temples.
8.5 km from the hotel

Vashisht Temple and Hot Springs
The Vashisht temple is believed to be more than 4000 years old. The Vashist temple is decorated with excellent and beautiful carvings on wood. The interior of this temple is rather traditional which is ornamented with antique painting and figures. The crystal clear water from the hot-water springs of Vashisht is a fascinating spot to explore. The water gushing out of this spring where people can take bath is believed to help in curing all kinds of skin problems as the spring water is considered to be therapeutic.
6.3 km from the hotel
Hampta Pass
The Hampta Pass is famous for its dramatic scenery. A 15 mins trek from the hotel to the Hampta Pass offers breath-taking views on different sides of the Himalayas. One side is the lush green valley of Kullu - with forests, grasslands, and flowers blooming on the side of your trail. And the other side is Barren Mountain with the arid and stark landscape of Lahaul. One of the major highlights of this trek is wandering through the high altitude of the mesmerising Chandratal Lake in Spiti.
15.1 km from the hotel
Jogini Waterfalls
The jaw-dropping beautiful Jogini waterfall is nearly 3 km from the Vashisht Temple. Besides the apparent natural beauty of the waterfall, the place is of religious importance too. The temple of the village goddess Jogini Mata is seated at the base of the waterfall.
3.6 km from the hotel
Old Manali
Old Manali has a charm of its own. A paradise for shopping and a perfect place to experience the city's vibrant nightlife at Cafes. You can either walk your way through these narrow lanes filled with cosy shops displaying local souvenirs, clothes, handicrafts like dream catchers. Make sure to visit around the evening just before sun sets, to grab a hearty meal at one of the many cafes serving authentic Tibetan cuisine to mouthwatering wood-fired pizza.
5.6 km from the hotel

Read More
Gallery

Contact Us

WELCOMHERITAGE URVASHI'S RETREAT
Shanag Road, P.O. Bahang, Manali, Himachal Pradesh-175103
+91 8045771900 ,+91 8091623637
holidays@welcomheritagehotels.in
By Air
Distance from the Kullu-Manali Airport -56 km
By Train
Distance from Jogindernagar railway station - 170 km
By Road
Distance from Delhi - 538 km/12 hours
Distance from Chandigarh -308 km/8 hours