HOTEL AMENITIES

Gym

Swimming pool

Restaurant

Heritage Hotel

Conference Hall

Coffee House
ACCOMMODATIONS

Offers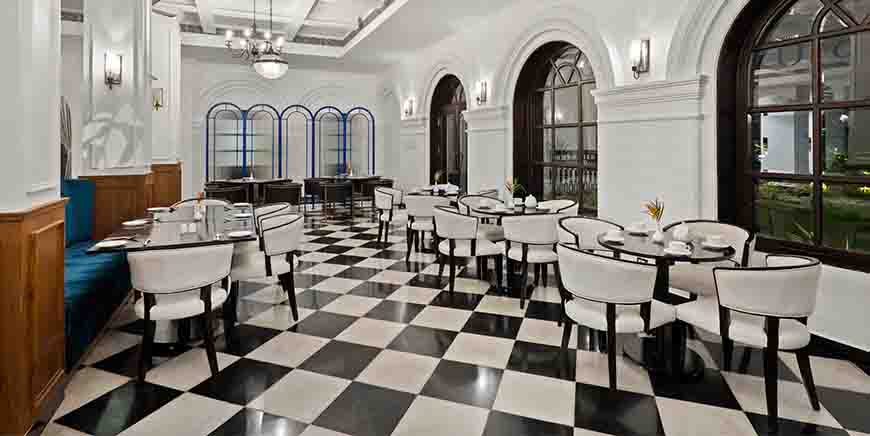 The upscale multi-cuisine restaurant offers a beautiful influx of coastal flavours along with the Continental and other provincial delicacies. The stunning decor of the restaurant offers a relaxed ambience to our guests looking to unwind and devour sumptuous meals. The sitting space of the restaurant is - 72 pax
Multi-cuisine

All day dining

Relaxed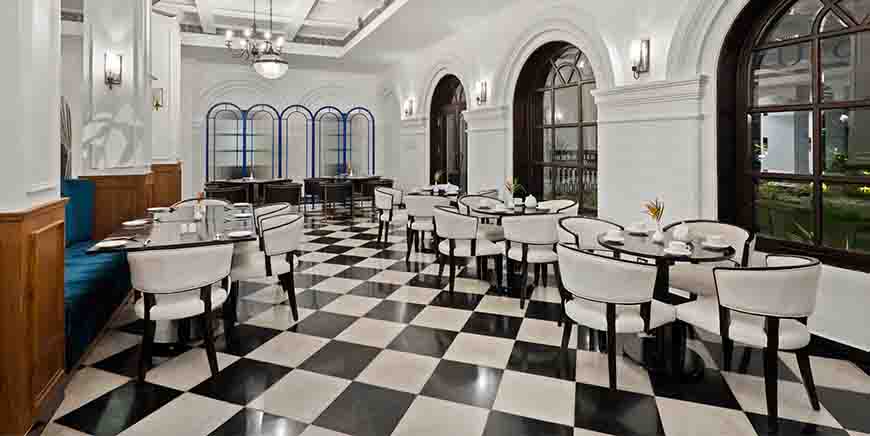 Offering artisanal and exotic teas and specialty coffees along with specially crafted baked goods, for the perfect quick breakfast or mid-afternoon pick-me-up.
Beverages & snacks

5:00 p.m. - 10:00 p.m.
The Grindlays Hall, offers an ideal venue for hosting gala dinners, events, meetings, or social functions. The hall with beautiful black & white checkered floor has an attached foyer. Area spread of Grindlays Hall - 1415 sq. ft Area spread of the foyer - 600 sq. ft Floating crowd - 250 PAX Theatre style - 150 PAX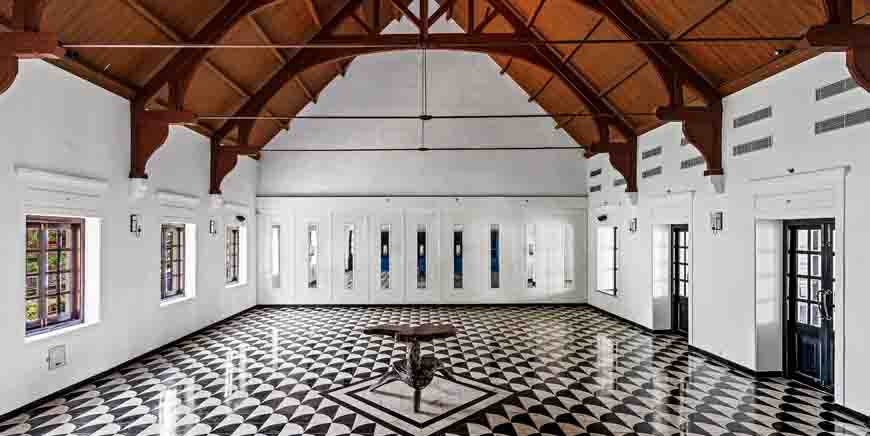 Jewish Synagogue: The 16th century Paradesi Jewish Synagogue, the single revenant of a vibrant Jewish community that dated back to 68 AD - left behind to tell a tale of Sephardic Jews finding refuge from the Spanish and Portuguese inquisitions to them returning to the promised land flowing with milk and honey.
Dutch Palace: At the helm of the touristy part of Mattancherry, the Dutch Palace holds court. A gift from the Portuguese to the then Kerala Maharaja as a gift to establish trade relations, the palace has an amazing display of murals, antiques, weaponry, maps, royal finery, etc.
Santa Cruz Basilica : The Gothic style constructed church was built-in the year 1505 is one of the seven Basilicas of India. The beautiful arches and sublime alter has awe-inspiring painting and depictions, stained glass windows, other gothic inspired interiors. . The present day church was opened in the year 1902 after destructions and demolitions.
Chinese Fishing Nets: Believed to be introduced in Kochi by Chinese explorer in the 14th century. Beautifully drooping towards the placid waters these nets present a spectacular sight, especially its silhouettes around the dawn & dusk. Vasco da Gama at the beachfront promenade offers surreal experience of strolling and watching the fisherman do their 'quotidian'.
Read More
Gallery